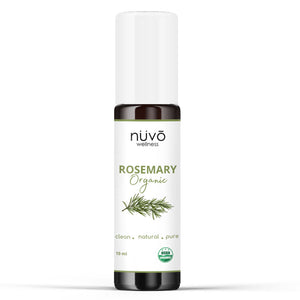 NATURAL ROSEMARY OIL ESSENTIAL OIL : 100% Pure essential oils of rosemary. Therapeutic Grade (Rosemarinus officinalis). This strong and effective essential oil is prediluted with organic jojoba oil and is ready to use.

ROLL ON ESSENTIAL OILS FOR SKIN AND FOCUS: More than hair oils for hair growth, rosemary essential oils aromatherapy also boosts cognitive health, helping retain concentration, focus and memory, for those long days in the library or behind the computer. Our Rosemary oil blend with jojoba oil is great for moisturizing skin.

Small But Powerful - Take it with you wherever you go and keep them handy at the office, home and car. Or carry it as a purse essential,

Nuvo Wellness Guarantee - Nuvo Wellness is dedicated to creating new and time tested products to provide optimal health for our customers. We are proud and confident of our products and offer a 100% customer satisfaction guarantee. However, we do realize that not everyone will see amazing results and that is why we offer a risk free purchase. Simply return for a full refund.